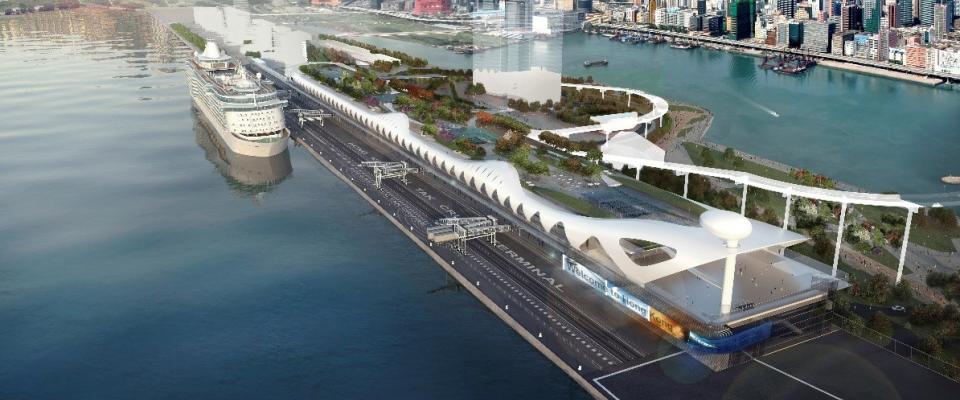 Design of the Kai Tak Cruise Terminal
Client:                  The government of the Hong Kong Special Administrative Region
Location:             Hong Kong Special Administrative Region of the People's Republic of China
Activities:
assisting and advising the cruise terminal design team on all design and planning matters related to terminal layout and operation, equipment design integration and installation
International consortium
For this project APC took part in an international consortium under the guidance of Dragages Hong Kong, a subsidiary of Bouygues. This consortium participated in the tendering process for the design of the Kai Tak Cruise Terminal.
Cruise terminal development
As the port of Amsterdam has its very own Passenger Terminal Amsterdam for cruise ships, APC was uniquely equipped to provide useful ideas on the final design. This included terminal layout and operation, and equipment design integration and installation to ensure a user-friendly and efficient system with quality services. The final routing and functionality of the design submitted by the international consortium was based on the Passenger Terminal Amsterdam, applied on a larger scale.
Facilities for large scale tourism
The design of the consortium in which APC operated, was selected by the Government of the Hong Kong Special Administrative Region for implementation. As the cruise terminal is aimed at stimulating large scale tourism from mainland China to Hong Kong, it can service the largest cruise ships in the world and has the capacity to disembark 8,400 passengers at once. The design for the terminal has numerous eating and shopping facilities and generates power from renewable sources.