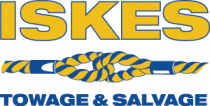 Introduction
Iskes Towage & Salvage is a major port towage provider in the port of Amsterdam with its home base in IJmuiden, at the sea-entry to the port of Amsterdam. Our professional crew has years of experience and operates according to high standards of quality, health, safety and environmental practices. Both our tugs and crew are licensed to sail worldwide, enabling towage and salvage operations wherever desired.
Services
Towage and salvage
We provide port towage and salvage operations with tugs assisting a wide variety of vessels, such as capesize bulk carriers, oil tankers and large cruise vessels.
Iskes is the expert in:
port towage
offshore rig moving
coastal & deep sea towage
offshore wind farm support
salvage
emergency response
Brokerage
In addition to towage and salvage, Iskes is operating internationally as a broker and consultant in the towage and offshore industries. We act as intermediary and agent between ship owners, charterers and buyers for the sale or purchase of specialized vessels. Our continuously updated information and our comprehensive network of vessel owners, charterers, operators, shipyards, etc. enable us to quickly and efficiently respond to our clients purchase and charter enquiries.
More information